OUR APPROACH: from the tree to solid or veneered wood
DETERMINING

REQUIREMENTS

Good client communication is essential to understand their exact needs.

We start by explaining what the forest can offer us, then specific attention is paid to the description of the material as it is presented in the industry.

Solid wood is presented in logs, carpentry-grade kiln-dried batches, or as sawn-edged timbers (especially for North American woods).

Veneer wood can be cut into standard thickness 6/10 but other dimensions are possible. Veneer wood can also be rolled for multiple uses (plywood).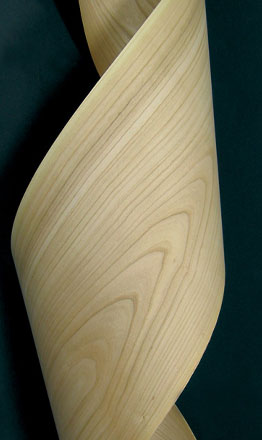 ANALYSIS

AND RELIABILITY

We have illustrated the two main methods of sawing logs used in sawmills:

"European" sawing - production of plateaux

"American" sawing - production of sawn edged flat-cut timbers

Apart from the different yields that these techniques provide, the appearance of the surface of the wood is different: flat-cut, rift-cut, quarter-cut, false-quarter cut, with sapwood, without sapwood, etc.

The visual qualities of the sliced veneer will determine the client's choice. As with solid wood, we find the same appearances as described above. To these are added notions of fine grain, mid-fine, satin, wave, marbling, singularities specific to certain species.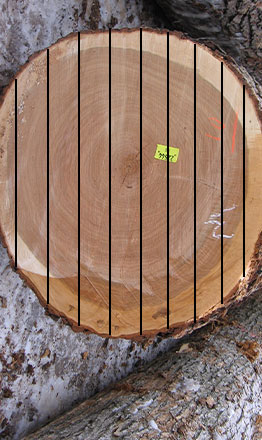 PROPOSITION
It is "built" from all of the assembled information concerning the wood, time restraints, budget, and of course the availability of the raw material.
It is based on the relationship of confidence and the commitment of ESSARBOIS to satisfy the demand.