DISCOVER THE WORK OF A WOOD MERCHANT
Using our expertise in wood, we have won the confidence of a clientèle keen to concentrate on the heart of their work and their expertise.
We strive to meet the client's specifications as closely as possible, to provide the perfect veneer and/or solid wood for the job.
Advice and attentiveness to define

the exact requirements

Each order is unique, wood is a singular product

The Essarbois range is dedicated to meeting the needs of the user and end client as closely as possible. This is why it is essential to fully understand the expectations, required quality, volumes, and surface areas of wood, and the use to which they will be put within a given time frame.

The knowledge and experience of the partners of ESSARBOIS are omnipresent to define and propose that which nature can really offer and thus broaden the palette of possible choices.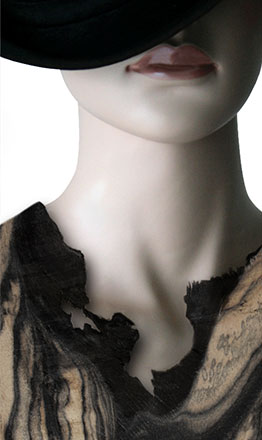 Selection and sourcing

of rare wood species

The number one vocation of ESSARBOIS

Essarbois has a number of major advantages at our disposal, such as:

A network of professionals capable of proposing a wide range of species for both veneer and solid wood, whilst respecting traceability and sustainable development.

The capacity to travel quickly to select dry woods for use in carpentry.

The storage of species with dedicated facilities to preserve the qualities of the raw material, transform it, and make it available on time for the client.

A vast diversity of the species for sale. Our shop floor regularly houses nearly 100 different species of European, American, exotic, precious woods and burls, whether solid or veneer.

The possibility of transforming solid wood on our site at Les Essarts with a machine park and experienced operators.

And more generally, strict and regular monitoring of the species that enter the catalogue.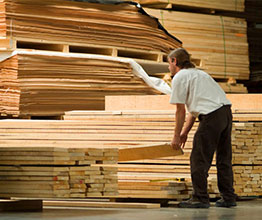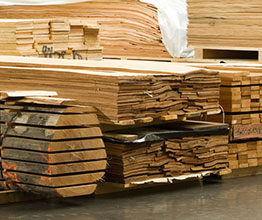 Guidance and

Follow-up

The processing of major orders requires time, money, and a combination of expertise. We are dedicated to implementing the financial means and professional partnerships needed to fulfil such challenges.

The loyalty of the client gives us in-depth knowledge of how they work, helping us to make the best choices to meet their requirements.

Another key element is transport, for the delivery of veneer or solid wood, which is ensured by a fleet of trucks belonging to Essarbois, or using qualified transporters.