The company
Presentation
The ESSARBOIS company was created in September 2004.
Early in March 2005, the site was completed in order to incorporate the following activities:
The supply and the sale of sliced veneer (from all origins, all varieties, all thicknesses) to the main purchasers of the raw material.

The trading of hardwood lumbers and logs such as oak, American elm, walnut, maple, beech, ash, sycamore, pine, teak, exotic woods...

A workshop for wood transformation (cut-to-size): trimming, bucking, splitting, in order to become an essential and optimal link in the chain to benefit the manufacturers, who can then concentrate on their main business.
Over and above our work expertise, we put great importance on:
Quality: selecting rigorously from the producer

Reactivity and responsiveness: being aware of our customers' needs and being on time with deliveries

Availability of the material: anticipation of trends and the customers' requirements, and a diversity of products on site

Increased control of the traceability: through the FSC and PEFC environmental certifications

Expertise: The capacity to satisfy a specific demand, and to put into action the network of suppliers

Larger range of products: For the industry, fitters and cabinetmakers, handworkers, and also personal use

Innovation: By developing a coherent range of thermowood products for terraces, boarding, furniture, siding ...
The Work force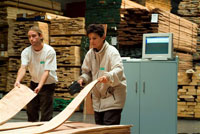 The quality of human relations in our business trade is essential. The Essarbois team consists of professional people experienced in the sliced veneer and the hardwood lumber chain.
For any queries about Veneer, panels , burl veneer, precious wood, please contact:
Tel: +33 (0)2 51 40 15 32
Fax: +33 ( 0)2 51 40 15 33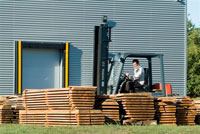 For all of your queries concerning hardwood lumbers, logs, parquet, terrace, boarding, thermowood, firewood
Please contact
Tel: +33 (0)2 51 40 15 32
Fax: +33 ( 0)2 51 40 15 33
For any questions concerning the Administrative aspect
Please contact
Tel: +33 (0)2 51 40 15 32
Fax: +33 ( 0)2 51 40 15 33
The customer is our partner, and his satisfaction is ours too. Our success has been proved through the confidence shown us by our customers.
---
---